Well, not really "wild," since 0-2 Norwood hasn't scored yet this year. But still, this is and always will be a great rivalry game. Let's call this game what it is: THIS IS A MUST-WIN for the 2017 Rebels! This year's game is on Saturday afternoon at 3:30 P.M at Turco Field. Strange time for a high school football game these days, unless you consider it probably took this long for the Rebels uniforms to dry out after last Friday night's deluge in Needham.
We'll get to the Norwood game in a bit. First, how weird was last Friday night? Walpole played Needham in Needham in absolutely horrific conditions. Have you seen the pictures in this week's Walpole Hometown Weekly? Crazy how hard it was raining!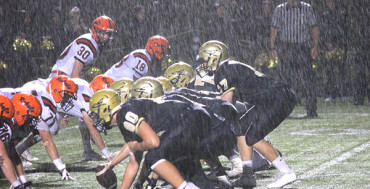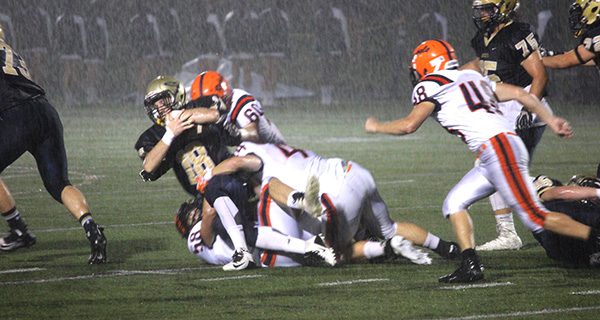 (Photos by Michael Flanagan)
And yet, back here in Walpole, the night was absolutely spectacular, and the hundreds who enjoyed Downtown Walpole Live experienced. Six miles away from Hurricane Needham, Walpole was dry and mild – a perfect night to experience Walpole's food, community and awesome live music. Back to the game, while of course both teams play under the same circumstances, we certainly didn't get a chance to see what the Rebels are capable of, as Michael Flanagan's article in the Hometown Weekly points out. Tommy Cassell of Wicked Local Needham also reports on the game HERE. (Were there any sightings of Dave Duffy wearing a Needham Football shirt in a Walpole Dunkies this week? Hope NOT!)
So, Norwood v. Walpole. For seniors, this is a game they will always remember. There is also talk of the Norwood moving to the Tri-Valley League, so could this be the last year of this rivalry? (Click HERE for a very interesting article from WickedLocal's Tom Fargo on how the MIAA changes to divisions, and teams coming and going among leagues, will affect Norwood.)
BUT LET'S NOT GET NOSTALGIC JUST YET: NORWOOD IS IN TROUBLE, AND THE REBELS NEED TO TAKE ADVANTAGE TO GET ON THE WINNING TRACK!
Norwood was shut out by the Framingham Flyers on the first week of the season, 22-0. Last week, Westwood put a 34-0 shellacking of the young Mustangs. According to Coach Jim Tighe, "We are really young. We only have seven seniors on this team and with that the younger kids are having a difficult time grasping this stuff." Walpole has to take advantage of a Mustang defense that has given up 56 points already, and an offense that has scored 0, zip, goose-egg, nil.
The uniforms are dry; the storms have passed; there's an extra day to prepare for an old-time Saturday afternoon football game with two bitter rivals. If ever there was a time for the Rebels to shine, now is it! LET'S GET IT DONE BOYS!  WE KNOW YOU CAN!